Countless formal partnerships exist between CFPA and AMC and the businesses, organizations, and government bodies near the NET. These partnerships are vital in promoting, protecting, and enhancing the trail.
Please feel free to contact AMC or CFPA if you would like to discuss ways your organization can become a NET partner.

AMC works with the National Park Service to maintain the Massachusetts portion of the New England Trail.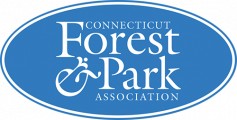 CFPA works with the National Park Service to manage and maintain the Connecticut portion of the New England Trail. CFPA's mission is to connect people to Connecticut's forests, parks, Blue-Blaze Hiking Trails, and ensure these special places are protected and well-managed for future generations.
To learn more about our work, visit www.ctwoodlands.org

The National Park Service (NPS) was established in 1916 to preserve unimpaired the natural and cultural resources and values of the National Park System for the enjoyment, education, and inspiration of current and future generations. In 1968, the National Trails System Act (NTSA) was signed, expanding the role of NPS to provide recreational routes that showcase the beauty of American wilderness in a National Trails System (NTS). The Act, as amended, calls for establishing trails in both urban and rural settings for people of all ages, interests, skills, and physical abilities. Encompassing national scenic trails, national historic trails, and national recreation trails, the National Trails System promotes the enjoyment and appreciation of trails while encouraging greater public access. The New England Trail (NET) is one of 11 National Scenic Trails across the nation. Guided by the NPS, the NET encourages public and private agencies to develop, maintain, and protect the trail. With the cooperation and support of a strong, nationwide trails community, the NET continues contributing to the vision of an interconnected, accessible, country-wide trail system.
Community Partners
The Partnership for the National Trails System (PNTS) connects member nonprofit trail organizations and federal agency partners to further the protection, completion, and stewardship of the 30 National Scenic and Historic Trails within the National Trails System.