Map and Guide
This two-map set is the indispensable day-hiker's companion to the entire 235-mile-long New England National Scenic Trail. The map and guide pairs two topographical trail maps―one for each state―with relevant information such as safety tips, Leave No Trace, natural history, and more. Twenty suggested hikes include Ragged Mountain Preserve, Bluff Head, and Seven Falls in Connecticut, and Mount Tom, Royalston Falls, and Erving Ledges-Hermit Mountain in Massachusetts. A collaboration between the trail's maintainers―the Appalachian Mountain Club and the Connecticut Forest & Park Association―in conjunction with the National Park Service, this map and guide is the ultimate resource for anyone seeking to day hike or thru hike this stunningly beautiful National Scenic Trail.
It can be purchased in several bookstores and equipment retailers along the trail or online from the retailers below. Be sure to visit the CFPA and AMC Bookstores to look for other titles and merchandise!
*Please be aware that several reroutes were completed after the printing of the map. Follow blazing in areas where the map and trail differ. The online interactive map has the most up to date trail line. 

**Don't need the full map and guide? Download the brochure by selecting the image above.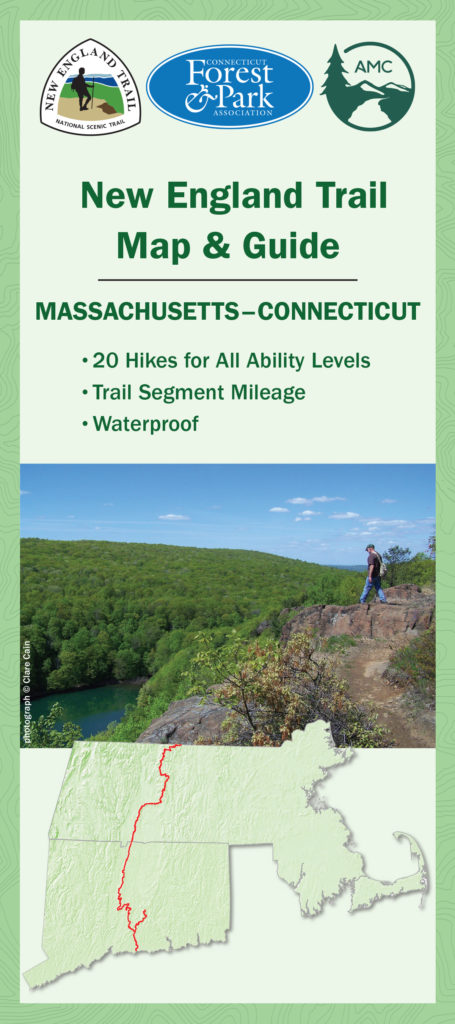 Other Merchandise:
At this time there is no NET specific merchandise for sale. When merchandise becomes available it will be listed here. Please visit the AMC or CFPA bookstores for other merchandise.