50,000 miles hiked in 3 years of the Hike 50 Challenge!
Over the last three years almost 600 participants have completed the challenge, logging over 50,000 miles on the New England Trail! You heard that right, over 50,000 miles or points earned by you through hiking, volunteering and exploring! Thank you for choosing the NET over and over again for your adventures. 
In 2018 we celebrated the 50th Anniversary of the National Trails System with our first 50 mile challenge. In 2019, we built upon this by adding an extra 100 mile challenge to highlight the 10 year anniversary of the designation of the NET. In 2020, we encouraged participants to use the NET as their close-to-home trail amidst travel restrictions. We anticipate continuing the challenge in 2021, and hope to announce in early spring. Keep tracking your miles/points and stay tuned!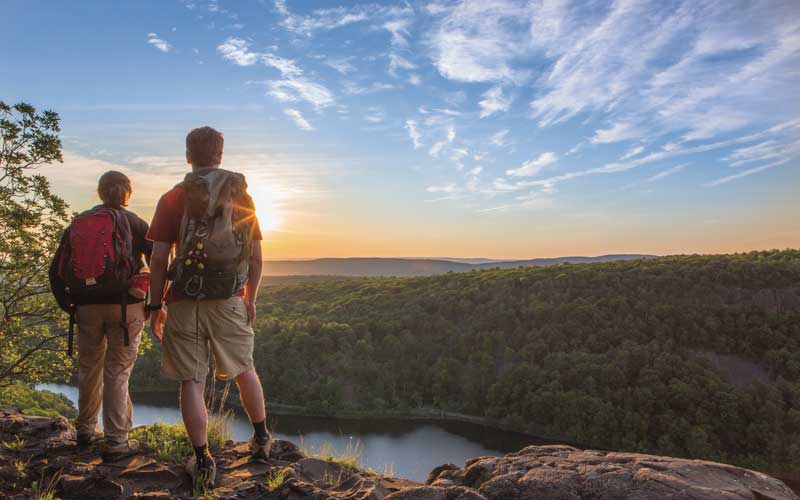 WE HOPE TO ANNOUNCE THE 2021 CHALLENGE IN EARLY SPRING. STAY TUNED AND READ ABOUT OUR 2020 CHALLENGE BELOW.
Launching the 2020 Hike 50 and 100 Challenges
You read that right! The challenge is back for 2020! Thank you for your patience as we worked through the decision to continue or suspend the challenge. 
The 2020 Hike50/100 Challenge continues! It looks a little different right now, but the general principles remain the same. Hike 50 or 100 miles (unique or repetitive) during the 2020 calendar year on the NET and submit your completion to receive a prize. Log your mileage over the year and once you complete your challenge share your story with us!  Look at the guidelines to see other ways to earn points. 

Patches and certificates will be mailed later in the year once staff are safely able to return to the office. We will send an update when they are headed out. 

We are encouraging people to "hike safe" by hiking locally and by limiting travel to trailheads. If you are not able to travel safely to the NET, we encourage you to save your hiking along the NET for a later date. 
** Hiking in the time of COVID-19. The New England National Scenic Trail remains open!  Please check the website of the area you plan to visit to see if the property owner has any restrictions in place. To read more about guidelines set out by CFPA, AMC and NPS, please visit our Closures and Notices page. 
** For folks who are unable to return to the Trail due to health concerns we are offering an alternative. Through July, any miles hiked locally, in your backyard or in your neighborhood will count towards the challenge even if you cannot get to the NET. See our FAQ for more info. 
Starting your 2020 Hike 50 Challenge is easy!
Step 1: Click here to sign up now for the 2020 challenge and to be entered into our first prize drawing. We will send you updates throughout the year and you will be entered in random prize drawings! Keep an eye out for charming but infrequent correspondence.
Step 2: Download tools for your Hike 50 NET Challenge. Flyer, Point Log Sheet,  Kids Log Sheet, Bingo, Printable "I completed the Hike50 Challenge" certificate for completion photos! (Download and share with your community).
Step 3: Take a look at our online map and start planning your 2020 adventures! The trail awaits. If you don't know where to start or don't want to hike alone, take a look at our suggested hikes or visit our online calendar of events.
Step 4: Finish the challenge by Dec. 31, 2020 and submit your completion using the links above! The last day to submit your miles for 2020 will be January 6, 2021. Be sure to submit a photo or story with your completion so that we can highlight it on our website!
The rules of the challenge are simple! Anyone who hikes 50 or 100 miles on the NET during the 2020 calendar year will receive a patch and certificate. Hiking however, is not the only way to earn points and complete the challenge. This year we welcome you to design your own Hike 50 Challenge in a way that fits your lifestyle! We've come up with a list of alternate ways to earn points and celebrate our trail. Look here to learn about all of the ways you can earn points and receive a patch! In addition to receiving a patch upon completion, AMC and CFPA in partnership with NPS will be offering prizes and free resources for those who sign up for the challenge, and a grand prize drawing at the end of the year!